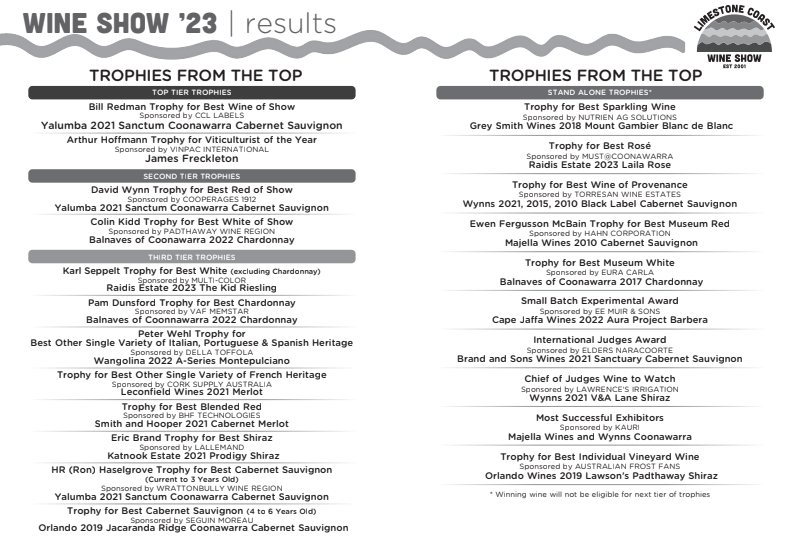 A Coonawarra cabernet sauvignon has claimed top honours at the Limestone Coast
Wine Show, outclassing 443 other entries from 62 exhibitors. Yalumba's 2021 Sanctum
Coonawarra Cabernet Sauvignon won the Bill Redman Trophy for Best Wine of Show at
last night's celebration dinner at Padthaway Estate, after earlier collecting the HR (Ron)
Haselgrove Trophy for Best Cabernet Sauvignon (Current to 3 Year Old), and the David
Wynn Trophy for Best Red Wine of Show.
Chief of Judges Philip Rich said the winning red, which retails for under $30 a bottle,
impressed from the outset. "It was a hotly contested class which highlights what a
fantastic year 2021 was for the region, but we just loved this wine's combination of
concentration and depth of fruit while also having some finesse and elegance about it at
the same time – ultimately, it's a beautifully balanced wine," he said.
The grapes selected for the winning wine come from the Menzies Estate Vineyard – a
patch of vivid red soil that Yalumba describes as Coonawarra's "inner sanctum" and "the
holy grail of all Cabernet purists". Viticulturist James Freckleton won the Arthur
Hoffmann Trophy for Viticulturist of the Year for his role in producing such an
exceptional wine, taking Yalumba's overall trophy haul to four.
The family-owned Balnaves of Coonawarra was the other big winner last night collecting
three trophies. The Balnaves of Coonawarra 2022 Chardonnay was awarded the Pam
Dunsford Trophy for Best Chardonnay and the Colin Kidd Trophy for Best White of
Show, while the 2017 vintage won the Trophy for Best Museum White.
Two more family-owned Coonawarra wineries celebrated a double trophy haul; Raidis
Estate won the Karl Seppelt Trophy for Best Aromatic White (excluding Chardonnay) for
the Raidis Estate 2023 The Kid Riesling and the Trophy for Best Rose for their 2023
Laila Rose, while Majella Wines won The Ewen Fergusson McBain Trophy for Best
Museum Red for its 2010 Cabernet Sauvignon and shared the Most Successful
Exhibitor trophy with Wynns Coonawarra Estate.
Wynns Coonawarra Estate's Black Label Cabernet Sauvignon (2021, 2015, 2010) won
the Best Wine of Provenance Trophy, while the Wynns Coonawarra Estate 2021 V&A
Lane Coonawarra Shiraz was named the Chief of Judges 'Wine to Watch'. "The Shiraz
class was incredibly strong, and I chose this particular wine because it was a slightly
more modern expression of Coonawarra Shiraz," Philip Rich said. "It was very pure and
fruit-driven, and I loved its perfume and elegance – it's just a terrific wine."
Sweden's Madeleine Stenwreth was also asked to pick a favourite, and gave her
International Judge's Award to Brand and Sons Wines' 2021 Sanctuary Cabernet
Sauvignon.
The trophy for Best Individual Vineyard Wine went to Orlando Wines' 2019 Lawson's
Padthaway Shiraz, with Orlando's 2019 Jacaranda Ridge Coonawarra Cabernet
Sauvignon winning Best Cabernet Sauvignon 4-6 years old. Meanwhile, it was a back-
to-back trophy win for Mount Benson winery Wangolina, collecting the Peter Wehl
Trophy for Best Other Single Variety of Italian, Portugese or Spanish Heritage – this time
for the 2022 Wangolina A-Series Montepulciano. Coastal neighbour Cape Jaffa Wines
won the Small Batch Experimental Wine Award for its 2022 Aura Project Barbera.
Rounding out the trophy winners, the Eric Brand Trophy for Best Shiraz went to Katnook
Estate's 2021 Prodigy Shiraz and Leconfield Wines' 2021 Merlot won the Trophy for
Best Other Single Red Variety of French Heritage. Smith and Hooper's 2021 Cabernet
Merlot won the Trophy for Best Blended Red, and Grey-Smith Wines' 2018 Mount
Gambier Blanc de Blancs won Best Sparkling Wine.
A total of 50 gold medals were awarded during the 22 nd -anniversary event, and winners
are on show this morning (Friday, October 20) at the Coonawarra Soldiers Memorial
Hall.
CLICK HERE to access the Google Drive containing the complete list of trophy winners + digital photographs from
the trophy dinner by photographer Adrian Gale.
For further information, please contact LCWS Committee members Matilda Innes 0400 576 410 and Ulrich Grey-
Smith 0429 499 355 or Gretel Sneath 0417 382 035.
limestonecoastwine.com.au